Experience some of the world's most authentic & natural courses
You don't have to travel too far to make incredible memories, with UK golf breaks offering everything you could need for a group trip and more. Enjoy rich variety, thousands of options, and jaw-dropping scenery in the UK & Ireland, with a better mix of course types than anywhere else in the world.
Whether you're looking for a hassle-free resort break or a bucket-list golf tour, the countries of England, Ireland, Scotland and Wales are all blessed with magnificent destinations and memorable courses. Enjoy all of this and more on your next golf trip, and all for an affordable price!
Why book a UK golf break?
Stay & play at all-encompassing resorts throughout the UK

Sample various course types, including links, parkland & heathland

Book golf breaks to suit all group sizes & budgets

Experience Open Championship, European Tour & Ryder Cup venues

Enjoy golf & nightlife at a leading UK town or city

Take advantage of a great range of 1 night breaks online today
Where to play on your UK golf break?
Visit the best golf destinations in the UK
Whatever your taste in golf, the UK & Ireland has it all. From playing historic courses on The Open Rota in St Andrews, East Lothian or Southport, to resort breaks at five-star Ryder Cup venues such as Celtic Manor and Gleneagles, the opportunities for a UK golf break are endless.
Put your game to the test on coastal layouts with huge dunes and jaw-dropping sea views, tee-up within secluded woodlands, or take a tour of heathland classics, the UK provides something for every golfer and every budget.
It is important to choose the best golf destination for you and your group to make special memories on and off the course. Our most popular UK golf destinations include:
Scotland In Scotland, there is nothing more historic in golf than St Andrews, the very heart of the history of the sport. The area is plentiful with fantastic courses and traditional pubs. If you are an avid golfer then this should be on the top of your list of places to experience.
Other fantastic locations include Edinburgh and East Lothian. The region provides many hidden gems along the beautiful stretch of coastline, an ideal destination if you want luxury accommodation and natural beauty.
England Located just outside of London, Kent is a customer favourite for many reasons, it is the ideal spot to dovetail classic links while taking in the scenery of the countryside.
Another location, even further down south is Bournemouth, England's most popular beachfront town, which blends heathland courses with fantastic nightlife, ideal for groups.
Finally, just north of Liverpool is Southport. The stunning area is known for its Open venues and gained the reputation as England's Golf Coast, so is no wonder why it attracts so many golfers.
Ireland Home of a quarter of the world's natural links courses, the rugged coastlines and beautiful views make the island the perfect destination if you like great views during your round. Discover South West Ireland to experience unreal views and embrace the history as the area is considered Ireland's St Andrews.
Lots of golfers like to stay in or around Dublin, the buzzing city provides a variety of options to make a golf tour with top-rated courses a short drive away. Equally as popular is Northern Ireland's capital, Belfast offering historic courses like Royal County Down and Royal Portrush.
Wales If you are wanting some great nightlife and great views, then a golf trip to Wales might be the one for you. Areas like Swansea and North Wales are ideal for a golf tour, with championship golf in abundance. When staying up north, stay in quaint towns and enjoy some picturesque scenery. However, if you enjoy off-the-course activities, Swansea is ideal for combining golf and nightlife.
Enjoy multiple experiences & holiday types
Not only is a golf holiday in the UK incredibly convenient but there is also a great array of different experiences to be had, all at an amazing value.
For true affordability, we'd recommend our stay & play resort packages, where guests can often get dinner, bed & breakfast, plus excellent added values. Additionally, a golf tour is a great way to make savings on your trip and experience off-the-course activities.
See all UK golf holiday types:
Off the course As well as world-class golf courses, the UK & Ireland is a region that is known for its spectacular scenery, rich history and vibrant culture, with plenty to see and do off the course.
Wherever you're staying, test your taste buds on traditional cuisine, explore the lively nightlife in cities such as Bristol, Newcastle, Dublin and Edinburgh, or discover the natural beauty of the rural countryside in Wales.
Dive into Scotlands waters, explore England's pristine beaches or take a trip to Northern Ireland's Causeway Coast.
Explore by map
Not sure where to play? Browse our map and find your ideal destination in a continent of possibilities. We know you will be spoiled for choice. Remember our knowledgeable golf experts are ready to answer any questions.
Best

-selling golf breaks in the UK & Ireland
Discover the best golf courses in the UK
In the UK, course layouts will differ from anywhere else and one thing that cannot be matched is the heritage and tradition. From a sausage roll at the halfway hut at Royal Cinque Ports to drinking a whiskey shot at Dumbarnie Links, tradition and culture makes the UK one of the most unique regions in the world for golf.
Some of the UK's best golf courses include:
Additionally, both the South of England and Wales offer different styles of courses for something different. Whatever your desires, the UK is a dynamic destination. It has something for every golfer and every budget, and with easily accessible venues, a memorable golf holiday is only a stone's throw away.
Our experts say...
"The courses in the UK & Ireland are the envy of the golfing world. Nowhere else can boast such a diverse collection of layouts – and they are right on your doorstep!"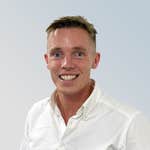 Mark Jenkins
Head of UK & Ireland Sales
Enjoy excellent resort & accommodation options
One of the most important things to consider when booking your golf break is choosing the right accommodation. Whether this is a stay & play golf resort, traditional B&B, or an elegant countryside retreat, the UK & Ireland offers something to suit everyone.
For those looking for a taste of luxury, Gleneagles and Adare Manor are must-visits that ooze class. Indulge in Michelin-star dining, sampling traditional delicacies or relax and unwind in famed health spas.
For a fun-filled city break, we offer a range of spectacular venues including Worsley Park which is just a short drive from Manchester, Forest of Arden near Birmingham, and countless options in and around Dublin.
For ultra-convenience at your fingertips, take a look at our best golf resorts and top two-course golf resorts throughout the UK.
Some of the best UK golf resorts include:
The Belfry (Birmingham) - home to three prestigious courses, including one which was seen in the Ryder Cup, offering a range of dining experiences located just outside a lively city
Carden Park (Cheshire) - ideal for a relaxing getaway in the North West of England with two fantastic tracks and a world-class spa
Celtic Manor (Newport) - home of the 2010 Ryder Cup, the five-star resort offers award-winning dining options, a true luxury getaway at a great value
The Vale Resort (Cardiff) - located just outside of the buzzing city, the regular host to sports national teams says it all about the facilities, not to mention the par 73 Wales National Course
The Gleneagles Resort (Dundee & Perth) - another five-star resort which needs no introduction, voted the best golf resort in the world in 2014, boasting three superb courses and a wealth of luxury facilities
Druids Glen Golf Resort (East Ireland) - Nestled on 400 acres between the Wicklow Mountains and the Irish Sea, historical landmarks and spectacular water features stand out on the two great golf courses
Alternatively, we also provide great city/town centre accommodation in the likes of Bournemouth and Liverpool, ideal if you want to be at the heart of the action.
Frequently asked questions
Why book with us?
The Official Golf Tourism Operator of the PGA TOUR with over 25 years of experience.
Item 1 of 6