Discover world-class courses & immerse yourself in the joyous culture
Home to so many high-calibre resorts and Championship links, golf breaks in Ireland are an experience that will last a lifetime. Whether you want to take on the two challenging courses at Druids Glen, the masterful Portmarnock Links in Dublin or even the windswept coastal courses of Ballybunion, there is golf in Ireland for every golfer. Combine outstanding golf with rich culture, luxurious resorts, and untouched majestic scenery for the complete Irish golf holiday.
So, whether you're looking to make a dent in your bucket list, chill out at a fantastic resort, or have a lively Dublin-based break, we've always got you covered!
Why book a golf break to Ireland?
Visit the home of a quarter of the world's natural links courses

Experience unforgettable views & dramatic rugged coastlines

From Belfast to Dublin, indulge in Ireland's exciting leading cities

Immerse yourself in pubs, cuisine & a wealth of cultural attractions

Take advantage of daily flights from all major UK airports

Choose from a great selection of resort breaks & golf tours
Where to play on your Ireland golf break?
Best golf break destinations in Ireland
Golf in Ireland is truly magical, from the stunning natural links to the beautiful scenery, the emerald isle is a popular destination and it's clear to see why. A plethora of golf awaits you, and there is a great selection of hotels just outside of the big cities as well as golf resorts so you can choose between staying in one place or experiencing the culture while drinking a Guinness.
From the picturesque countryside, windswept courses on the rugged coastline and courses near vibrant cities, Ireland offers something for every golfer. Whether you play in Lough Erne, Dublin, Cork or Kerry, many of the courses boast spectacular scenery and are highlighted as some of the best golf courses in Ireland.
Our most popular Ireland golf destinations include:
Dublin - most well-known for its fantastic Guinness and pub culture, this destination is ideal for groups looking to make the most of a lively city, with untamed links courses and famed parklands right on your doorstep.
Belfast - a variety of accommodation options await you, suitable for all budgets. The area offers an abundance of championship golf in breathing locations, with the historic Royal County Down and Royal Portrush within easy driving distance.
Donegal - away from the noise, the surfing capital of Ireland provides some of the finest beaches and scenic walks. You will be sure to encounter suburb golf and warm hospitality.
Cork - this region produces many customer favourite courses and is full of superb resorts and regular hosts of the Irish Open. You will also find an array of traditional pubs, rich heritage, and plenty of craic.
Killarney - A vibrant town set in the beautiful Irish countryside, choose from a variety of great golf courses which are all easily accessible and provide golfers with an unparalleled experience.
Looking to stay closer to the action in the evening? Outside of Dublin, the best of the craic can be found in the local towns of Killarney, Galway or Cork.
Discover the best golf courses in Ireland
Ireland is blessed with some of the best golf courses in the world, headlined by the outstanding Royal County Down and the breathtaking Ballybunion Golf Club.
The incredible offering of links golf in Ireland truly knows no limits, with the Wild Atlantic Way on the West Coast of Ireland home to unmissable gems including Doonbeg and Waterville. Whatever links you choose to play, you will be in for a treat.
Wherever you're looking to book golf in Ireland, all the courses are based in unique, stunning locations across the North, South, East & West. Blessed with miles of stunning, unspoiled natural landscape, the glorious scenery makes Ireland an unmatched destination for a golf break.
Some of Ireland's best golf courses include:
Other fantastic Ireland golf clubs include; Portmarnock Old Golf Club, Royal Portrush Golf Club, Tralee Golf Club, Castlerock Golf Club and many more which can be found here.
Explore by map
Not sure where to play? Browse our map and find your ideal destination in a continent of possibilities. We know you will be spoiled for choice! Remember our knowledgeable golf experts are ready to answer any questions.
Indulge in excellent resort & accommodation options
From high-caliber resorts to budget-friendly hotels, there is a wide range of accommodations to choose from in Ireland. For a taste of true luxury, we recommend Fota Island, Dromoland Castle and Mount Juliet Estate. Each resort offers outstanding hospitality and service alongside fantastic golf courses.
For those looking to play at the fantastic Portmarnock Links, Druids Glen, or The Island Golf Club, yet still remain close to the bright lights of the city, Dublin boasts several fantastic city-centre hotels including the four-star Hilton and The Gresham Hotel.
Some of the best golf resorts in Ireland include:
The best hotels to stay for an Ireland golf tour include Hilton Dublin, Diamond Coast Hotel, the Rose Hotel and Slieve Donard Resort & Spa.
To get the best value accommodation for an Ireland golf getaway, check out the stay & play packages where you will have everything in the same place which makes discovering the area easier than ever. All venues are in easily accessible locations and with the choice of short flights or driving, you will save a lot of money on travel compared to travelling further abroad.
Golf travel tips for Ireland
Best months for golfing weather:
Our experts say...
"Providing stunning venues and some of the finest links courses in the world it is the perfect spot for your next golf break. The country is known for its traditions and unique culture and if you love golf then it should definitely be next on your bucket list"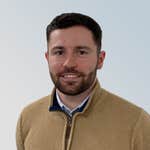 Chris Williams
UK Travel Consultant
Multiple golf break experiences in one country
Not only is there a vast choice of golf courses across Ireland, but there are also several types of golf holidays you can enjoy during your stay.
Some of our popular golf holiday types include:
Off the course, there is so much to see and do in Ireland, from the spectacular coastlines and national parks to the lively cities, there is no shortage of things to do off the course.
Take a trip to Dublin for the tasty cuisine and fantastic live music. Learn about Irish folklore, history and culture from some of the welcoming locals in Killarney.
Outdoor lovers should explore the ancient castles and ruins peppered all over the country or discover the natural wonder of The Giant's Causeway in Northern Ireland. For some relaxation time, take a stroll along the sandy beaches of Galway Bay.
Why book with us?
The Official Golf Tourism Operator of the PGA TOUR with over 25 years of experience.
Item 1 of 6