Experience the world's most authentic & historic courses
Classic links courses, historic locations and jaw-dropping landscapes await in the British Isles, with each country and destination offering something uniquely different from the other. With thousands of courses to choose from – whether it be links and clifftop to heathland and parkland – a golf trip in the UK & Ireland provides plenty of variety.
Scotland, the 'Home of Golf', is undoubtedly the flagship country and high up on every golfer's bucket list, followed very closely by Ireland, which offers a great blend of links golf and legendary hospitality. England has an abundance of Open Championship venues to choose from, and Wales, although lesser-known, is a great option for golfers looking to discover hidden gems.
Why book a golf trip to the UK & Ireland?
This is where the game began

Play Open Championship venues & more

Wonderful sense of history & tradition

Renowned British pub scene

Historic cities & landmarks

Multiple direct flights routes from North America
Popular golf trips in the UK & Ireland
Discover where the game began
A golf vacation to the British Isles is like a pilgrimage, taking you back in time to where the game began. Originating out of Scotland in the 1400s, where players would attempt to hit a pebble over sand dunes and around tracks using a bent stick, golf officially became a sport when the Gentlemen Golfers of Leith formed the first club and set of 13 rules in 1744. The first 18-hole course was constructed at St Andrews in 1764 and the 'Royal & Ancient' was born in 1834, with the first Open Championship played in 1860 at Prestwick.
Although present-day golf is brimming with sporting superstars from across the globe, playing for unimaginable prize funds and watched by millions of ardent fans, it is the same incredible golf courses (perhaps with a few upgrades along the way!) that they and us amateurs play today. It is one of the few sports where amateurs can play on the same hallowed turf as the professionals.
Whether you choose to go to Scotland or Ireland, England or Wales you will marvel at the sense of what has gone before you. From Willie Park and Old Tom Morris to Jack Nicklaus and Arnold Palmer to Tiger Woods and Rory McIlroy, your emotions and imagination will run wild. Let's Go!
Explore on your golf trip in UK & Ireland
Whether it's that 'special' American bond or sense of 'cousinship' with the Canadians, Britain has always opened its arms to North American golf travellers. There is that spiritual connection and ancestry that far outweighs the unpredictable weather or warm beer.
With so much to see and do, and amazing golf courses to play the common mistake amongst golf travellers is to try and fit too much into an itinerary. Instead, we recommend that you just have to go back again and again! Explore UK & Ireland hidden gems for your next golf vacation across the pond.
Explore by map
Not sure where to play? Browse our map to find your ideal destination in a region of possibilities. We know you will have plenty of choices! Remember our knowledgeable golf experts are ready to answer any questions.
Customized

UK & Ireland golf packages
Experience excellent value accommodations
The UK & Ireland is full of iconic cities, vibrant towns and charming villages all brimming with history and character, that offer multiple accommodation options.
From quaint little Inns and B&Bs to expansive five-star golf resorts, the choice is wide and deep. Unlike in the USA, breakfast tends to be included with your stay, however, be warned that room sizes do tend to be smaller so be sure to ask our Golf Vacation Specialists about upgrade options and costs.
Our experts say...
The courses in the UK & Ireland are the envy of the golfing world. Nowhere else can boast such a diverse collection of layouts, with historic links courses taking center stage!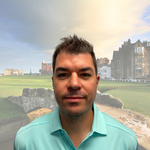 Chris Bowles
Senior Golf Vacation Specialist - UK & Ireland
Things to do in the UK & Ireland
As well as world-class golf courses, the UK & Ireland is a region that is known for its spectacular scenery, rich history and vibrant culture, and there is plenty to see and do off the course.
Wherever you're staying, test your taste buds on traditional cuisine, explore lively nightlife in cities such as Liverpool, London, Dublin and Edinburgh, or discover the natural beauty of the rural countryside. Tour Scotland's historic castles, experience the English pub scene with Fish & Chips washed down by a pint of ale, or take a trip to Northern Ireland's mysterious Causeway Coast.