From Sin City to Mesquite, explore what makes Nevada golf packages so popular.
Nevada is a golfer's paradise, with a wide selection of golf courses that are sure to impress even the most discerning golfers. The state is home to some of the best golf resorts in the country, including Paiute Golf Resort in Las Vegas and Wolf Creek Golf Club in Mesquite. Combine breathtaking golf with the vibrant Nevada nightlife and exceptional resort facilities.
Whether you're a seasoned pro or a beginner, a Nevada golf package is an experience that you won't want to miss!
Why book a Nevada golf package?
Play a selection of the country's best desert courses

Discover the famous Las Vegas nightlife

Stay on the Strip & experience all the action

Enjoy the great year-round climate
Explore Nevada's premier golf courses
With a selection of over 100 courses spread throughout the state, it's no surprise that Nevada golf packages are so popular. Many of the courses in the area have been sculpted by world-renowned golf architects, such as Paiute Golf Resort which was a Pete Dye creation. Offering three championship designs just a short drive from the Las Vegas strip, this is a spectacular example of the quality golf on offer in Nevada.
Located in Mesquite, Wolf Creek is also nothing short of spectacular. This course is a prior winner of the prestigious Fan Choice Award for the favorite course to play by fans worldwide. You can expect a challenging round at this bucket-list course as you navigate through canyons and elevation drops.
The courses in Nevada offer a range of challenges for golfers of all skill levels, with backdrops ranging from mountain views to lakes and desert landscapes. If you're looking for a destination that offers world-class golf with off-the-course entertainment to match, look no further than Nevada.
Some of Nevada's best golf courses include:
Where to play on your Nevada golf package
Discover the best hotels for the ultimate trip
If you're considering a Las Vegas golf trip, then the Strip is hard to beat. With an abundance of hotels just a stone's throw away from one another, such as MGM Grand and Bellagio, you can experience everything Sin City offers no matter where you choose to stay. Alternatively, if you're looking for somewhere a little quieter within driving distance of the strip, then The Westin Lake Las Vegas Resort comes highly recommended.
For those considering venturing out to Mesquite, there is a great choice of venues on offer. Eureka Casino Resort is a great choice, not only for its modern facilities but also due to its close proximity to the famous Wolf Creek Golf Club. Another fantastic hotel is the Holiday Inn. Featuring an outdoor pool, spacious rooms, and useful in-room utilities, you'll have everything you need for a comfortable break.
Some of Nevada's best hotels include:
Our experts say...
'From golfing right on the strip in Las Vegas to conquering the rugged terrain of Mesquite – Nevada has a little bit of everything for any group headed to the desert for a golf trip.'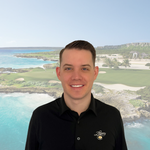 Connor Smith
Product Manager - US & Mid Haul
Golf travel tips for Nevada
Best months for golfing weather:
March to April, Mid-October to Mid-November
Explore by map
Not sure where to play? Browse our map to find your ideal destination in a city of possibilities. We know you will have plenty of choices! Remember our knowledgeable golf experts are ready to answer any questions.
Enjoy world class entertainment & awe-inspiring sites
In Las Vegas, you can explore the world-renowned Strip, try your luck in one of the many casinos, or take in a show. You're guaranteed a good time at Cirque Du Soleil and comedy shows also come highly recommended.
If you'd like to get some extra practice in, then Topgolf in Las Vegas is incredibly popular. With four levels, two pools, a swim-up bar, and views of the Strip from the hitting bays, you're guaranteed a great time. For outdoor activities, consider exploring the Red Rock Canyon or taking a day trip to the Grand Canyon for the spectacular views.
Sitting northeast of Las Vegas is Mesquite, the perfect destination for those that like to keep active in between rounds. You can go hiking, biking, or horseback riding in the nearby Virgin Mountains. You could also take a scenic drive through the Valley of Fire State Park. If you're hoping for some evening entertainment, then you could even visit the casino within Eureka Resort.
Why book with anyone else?
Guaranteed best price, flexible booking and free amendments.
Item 1 of 4