Escape to Mesquite for a golfing oasis & breathtaking desert landscapes
Nestled in the lively state of Nevada and away from the hustle and bustle of Las Vegas, Mesquite is a fantastic destination for a golf trip. Mesquite is home to one of Nevada's top courses – Wolf Creek Golf Club, as well as many more outstanding desert layouts. The courses are well-maintained and offer stunning views of the surrounding landscape. The weather is also great for golfing with a warm year-round climate, making this the perfect winter sun escape.
With a range of courses to suit all skill sets, there is a Mesquite golf package for every golfer.
Why book a Mesquite golf package?
Explore top-rated desert courses

Visit the popular casino in Eureka Resort

Stay close to a range of nearby courses

Play the bucket-list course at Wolf Creek
Explore phenomenal courses in Mesquite
For golf enthusiasts looking to experience Mesquite's top-rated golf courses, there are a variety of Mesquite golf packages available. Each course offers a unique experience with its own set of challenges and breathtaking views.
Wolf Creek Golf Club is a must-play course, featuring stunning elevation changes and challenging holes that wind through rugged desert terrain. Coyote Springs Golf Club, designed by golf legend Jack Nicklaus, also offers golfers an unforgettable experience with its unique layout and panoramic mountain scenery.
Falcon Ridge Golf Club is a must-visit for golfers, with its dramatic elevation changes and outstanding views of the surrounding canyons. For a taste of championship golf, The Oasis Golf Club offers two courses, the Palmer Course and the Canyons Course, both of which are known for their challenging layouts and phenomenal mountain views.
Some of Mesquite's best golf courses include:
With so many options available, planning a golf trip to Mesquite has never been easier. Whether you're traveling with a group of friends or looking for a solo golf getaway, a Mesquite golf package provides a convenient and cost-effective way to experience some of the best golf courses in the Southwest.
Where to play on your Mesquite golf package
Discover hotels for every budget in Mesquite
Mesquite, Nevada, is a popular vacation destination for golf enthusiasts due to the fantastic volume of top-class courses in the area. If you're considering a trip, there are several hotel options available to choose from to build your perfect Mesquite golf package.
The Eureka Casino Resort is a popular choice due to its close proximity to the famous Wolf Creek Golf Club. The resort offers a variety of accommodation options, ranging from deluxe rooms to suites, and features amenities such as a spa, fitness center, and pool. The on-site casino offers plenty of gaming options for those feeling lucky, and multiple dining options, including a steakhouse and a sports bar, provide guests with a range of culinary experiences.
For those looking for a more affordable option, the Holiday Inn Express Suites and the Best Western Mesquite Inn are excellent choices. Both hotels offer comfortable rooms and amenities such as a fitness center and pool. The Holiday Inn Express Suites is located near several popular golf courses, while the Best Western Mesquite Inn sits near downtown Mesquite, providing easy access to shopping and dining options.
Overall, Mesquite has a variety of hotel options to choose from, ranging from luxury resorts to more affordable options, making it a great vacation destination for golfers.
Our experts say...
'Mesquite delivers affordable accommodations paired with some of the best desert golf you can find. With great weather and casinos - golfers of all skill level can enjoy everything this destination has to offer.'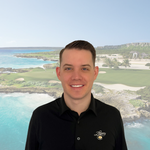 Connor Smith
Product Manager - US & Mid Haul
Golf travel tips for Mesquite
Best months for golfing weather:
March to April, Mid-October to Mid-November
Explore by map
Not sure where to play? Browse our map to find your ideal destination in a city of possibilities. We know you will have plenty of choices! Remember our knowledgeable golf experts are ready to answer any questions.
Explore exciting activities beyond golf in Mesquite
While Mesquite is a golf lover's paradise, there are plenty of other activities to enjoy during a vacation in this desert oasis. One popular attraction is the Mesquite Motor Mania, an annual car show that showcases classic cars, hot rods, and other vehicles from around the country. The event includes a parade of vehicles through downtown Mesquite and various car-related activities throughout the weekend.
Outdoor enthusiasts will enjoy the many hiking and biking trails in the area, including the nearby Virgin Mountains and the Arizona Strip. The Virgin River Canyon Recreation Area is a popular spot for hiking and picnicking, and the nearby Lake Mead National Recreation Area offers opportunities for boating, fishing, and other water-based activities.
Additionally, Mesquite is also home to several casinos, restaurants, and shopping options, providing a range of entertainment options for visitors. With so many things to do and see in and around Mesquite, it's easy to plan a well-rounded vacation that offers something for everyone.
Why book with anyone else?
Guaranteed best price, flexible booking and free amendments.
Item 1 of 4