Play great golf inland or along the rugged coastline
Located in Scotland's South-East corner, a golf break in Dumfries is often overlooked in favour of some of it's more illustrious neighbours. However, the area is home to some quality golfing options, including Southerness, a fantastic course for walking, due to its level terrain and stunning views of the Irish Sea. The southerly nature of the hotels and courses in Dumfries make it the ideal first stop on a journey up to Scotland from the South.
Why play golf in Dumfriesshire?
Explore the peaceful & tranquil landscape of Dumfries

Great for tours and groups of all sizes

Discover the hidden gems of South West Scotland
A hidden gem lies just over the border in Dumfries
Dumfriesshire is a remarkable hidden gem in the southwestern reaches of Scotland. This picturesque location offers beautiful views of undulating coastlines, sandy beaches, rich green forests and grassland. This beautiful scenery lends to a fantastic variety of links and parkland courses which make a Scotland golf tour a must for any golfer. Some of the top golf courses in Dumfriesshire include:
Southerness Golf Club Southerness has a long and storied history, created by the Oswald family following WW2. The course has undergone regular refinement throughout its history and is much enjoyed by all who walk its fairways. The course has been complemented by the excellent condition it is kept in, this has been recognised by 'Golf Monthly'' including Southerness in their list of top 100 courses every year since 1990.
Lochmaben Golf Club Another course with a rich history is Lochmaben Golf Club regressing all the way back to 1926 surviving WW2 when golf was paused for 5 years. The outstanding parkland course is overlooked by the motte of Castle Hill and winds gracefully around a 32-acre loch. Be aware, the greens on this course are smaller than you may think so make sure your approach play is up for the challenge.
Wigtownshire County Golf Club If a links course is what you are looking for Wigtownshire County Golf Club is a challenging and picturesque course with fairways rolling along the undulating Luce Bay. Situated on a south-westerly point of Scotland on the Irish Sea, the dynamic wind patterns will put your golf skills to the test.
Powfoot Golf Club For a very unique experience Powfoot Golf Club is a mixture of both parkland and links. The stunning landscape surrounding the course provides impressive jaw-dropping views that you will simply have to take a moment to digest. The course has five holes boasting yardages of over 400 yards this course will test golfers of all abilities.
Popular golf destinations in Dumfriesshire
Where to stay on your golf break in Dumfriesshire
Dumfriesshire is situated just over the Scottish border and the courses which border the coast here have fabulous views over the Irish Sea. Luckily there are plenty of top-quality venues offering accommodation in close proximity to some of the best golf courses the area has to offer.
Situated above the enchanting fishing village of Portpatrick, Fernhill Hotel offers serene views overlooking the widespread Irish Sea. Indulge in an ever-evolving menu, inspired by the finest locally sourced Scottish ingredients. While dining enjoy a panoramic view of the unspoiled coastline while boats sail gracefully in and out of the harbour.
For those looking to stay further inland Cally Palace is a fantastic option with golf available on-site. The 18th-century mansion put together with luxury furnishings provides an elegant stay. Again, using fresh and local ingredients the fine dining experience at Cally Palace offers an impressive menu at any time of the day. The Cally Palace Golf Course is exclusive to those staying in the hotel and as such, tee times are regularly available whenever you are looking to play. The course is sculpted into the natural contours of the hotel grounds and winds through trees, burns and Cally Lake providing stunning views of Cardoness Castle, Rutherford's Mountains and the Fleet Estuary.
Finally, the Holiday Inn Dumfries, set in a beautiful location only, a 6-minute drive from Dumfries town centre, enjoy a plethora of local great golf. Directly south of the hotel is the Southerness Golf Club where while taking on the challenging links course, you can enjoy panoramic views of the Solway Firth, the Cumbrian Lake District to the South, and the Galloway Hills to the West.
Our experts say...
Twin the charming Scottish countryside with some of the country's best-hidden gems on your next golf tour.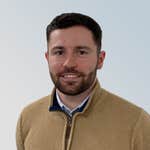 Chris Williams
UK Travel Consultant
Golf travel tips for Dumfriesshire
Best months for golfing weather:
Explore by map
Not sure where to play? Browse our map and find your ideal destination in a continent of possibilities. We know you will be spoiled for choice! Remember our knowledgeable golf experts are ready to answer any questions.
Explore 'the Queen of the South' off the course
A family-friendly destination located near the mouth of the River Nith, there is plenty to keep everyone entertained on and off the course in Dumfriesshire and there is something to suit every golfer. From fantastic restaurants, pubs, shopping, or the great outdoors, there is a whole host of activities awaiting you.
Absorb beautiful castles and gardens, such as Threave Estate or Drumlanrig Castle or visit the Dumfries Museum and learn about local history. Theme parks include Dalscone Farm Fun and Mabie Farm Park boast an array of exciting rides and activities for all the family. The village of Portpatrick offers a wide variety of scenic costal paths including routes to Dunskey Castle and Portpatrick Harbour. Now that you've got an idea of what you'll be up too Here's a list on what items to take on a golf break to Scotland.
Why book with us?
The Official Golf Tourism Operator of the PGA TOUR with over 25 years of experience.
Item 1 of 6