Destination Guide
Golf guide to St Andrews, Fife, Angus and Perthshire
We spoke to the Golf Channel's Mike Bailey and Canadian Golf Traveller's Brian Kendall about some of their Scotland experiences. Hear about some of their favorites...

Chris Bowles
5 mins read
Playing the Old Course at St Andrews is a truly transcendent experience. Stepping back into history. The game as we know it – was born here. 28 Open Championships have been contested on this hallowed layout – with so many of the game's great players having stood triumphant on that 18th green with the Claret Jug in hand. Bobby Jones, Jack Nicklaus, Seve Ballesteros, Nick Faldo and Tiger Woods. You are literally walking in their footsteps.
But with that history behind you, standing on the first tee is equally surreal and terrifying. No matter how many times you visit. It has been such a widely photographed image, you almost can't believe that you're actually in it for those all-too brief moments. Despite it being one of the widest fairways in the world, with the pressure of history on you – it almost feels unhittable. And (without revealing any names) some people have missed it.
After overcoming the initial nerves and tension, there are many iconic sights on the Old Course that will be instantly recognizable to any lover of the game and its traditions. Famous bunkers – including Strath and Hell –threaten ominously throughout your round, while the legendary 17th - the Road Hole – remains one of the most challenging and thrilling to play in the world. The ultimate card-wrecker.
Crossing the Swilcan Bridge is a subtly spectacular way to conclude the round, with the comparatively gentle 18th hole allowing you to relax and savor the surroundings. It is a fascinating course to play and navigate around, with so many possibilities and variety of shots on offer. If you were forced to play the Old Course every day for the rest of your life – it would be a most satisfying golfing existence.
St Andrews Swilcan Bridge
It is easy to forget that there are four courses directly adjacent to the Old – the New, Jubilee, Eden, Strathtyrum and Balgove. All have positive qualities, but it is the Old Tom Morris-designed New Course that is the highlight of the Old's sisters. It is a somewhat ironic name, would be like calling North by Northwest a new movie, but the oldest new course in the world is a fantastic test. For many locals, it is their favorite, and it's easy to see why. Just yards from the Old Course, the New is a true examination of links golf.
You will also discover that the town of St Andrews is oozing with history and tradition. With its medieval attractions, including the Castle, Cathedral and a University that dates back to the 15th century, the Auld Grey Toon (as it is referred to locally) has much to offer besides the golf. If you so desire, you can even visit the grave of Old Tom. I'm sure that he would appreciate the company.
The atmosphere in the town is also tangible. With numerous pubs and bars – including the famous Jigger Inn – there are ample places to spend an evening and sample the local beverages with an eclectic and varied mix of people. With thousands of students and tourists milling around, there will be no shortage of conversation topics. It's fair to say that many an enjoyable night, and subsequent hangover, have been had in St Andrews.
Just a few miles outside of St Andrews is Kingsbarns, which has grown in popularity since it was opened in 2000. In fact, it has hard to believe that this stunning course has only been there for 15 years. It has blended into the landscape beautifully, and has proven to be a favorite among professionals on the European Tour since it became part of the Alfred Dunhill Links Championship. Playable for all and spectacular, this modern links is another jewel in the crown of Fife.
The legendary Ben Hogan never played the Old Course or visited Fife, but he did compete at the legendary Angus course of Carnoustie in 1953. His solitary appearance in the Open Championship brought him the Claret Jug and secured his place in local folklore. And you can try it for yourself. The Championship Course is among the most challenging in the world, but it is unquestionably a fantastic experience for masochistic golfers. It will brutalize your game – but it will be the happiest 105 that you've ever shot.
Overall, Angus is an underrated area for golf in Scotland. In addition to Carnoustie, the likes of Panmure and Monifieth (where Tom Watson first experienced links golf) are among the finest courses in the country, and are certainly worth visiting. One of the keys to remember with golf in Scotland is that the lesser-known courses are often more satisfying than the trophy venues.
But if you've had enough of having a sea breeze blowing into your face, you can give your skin some relief by visiting the inland county of Perthshire. With its rolling hills and stunning countryside, there is an unrivalled tranquility to the area. Playing here is the equivalent of golfing with your slippers on.
Gleneagles is the most famous golfing venue in Perthshire and it is spectacular. With three courses, the PGA Centenary, Kings and Queens, is a fine exhibition of inland golf. It is a wonderful setting with a panoramic view of the surrounding hills in view, right between the Highlands and Lowlands.
Gleneagles, Queens Course
Patriotic American readers may wish to turn away in disgust, but many will remember that the Centenary hosted the Ryder Cup in 2014. Playing this Jack-Nicklaus design will allow you to relive and recreate the shots produced by the world's best players.
Feeling inspired?
Scotland has much to offer golfers all across its expanse, there are so many great regions for a stay and play vacation. But if you were to only visit once, then Fife, Angus and Perthshire should be first on your list. It has everything.
---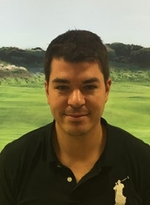 Chris Bowles
Senior Golf Vacation Specialist - UK & Ireland
Related articles