Caddy Tips
Top 10 items to bring on a golf vacation to Scotland
Don't forget to pack the essentials for your next Scottish golf trip! Check out our top tips...

Chris Bowles
3 mins read
1. Handicap Certificate
2. Driver's License
Book a golf vacation to the home of golf
3. Rain Gear and Umbrellas
4. Aspirin (and other medications)
With some potential late nights and some (considerable) alcoholic consumption, there is the slight chance that you might not quite be at your best when standing on the first tee of some courses on your trip. Therefore, in order to fend off the attacks of a regrettable hangover, it might just be sensible to bring some Aspirin. It could be a lifesaver.
On a wider note, it is worth remembering that some medications have different names in the United Kingdom, and many of the drugs that you can buy over the counter at home may only be available by prescription on this side of the pond. Something to consider. Be prepared!
Book a golf vacation to Scotland
5. Lip Balm
6. Golf GPS Software
It may seem like heresy to use the most contemporary technology to assist your game in the nation where the sport was born, but GPS applications can be so useful when playing courses for the first time, particularly ones that possess a number of hidden hazards, which is commonplace on a links.
Although caddies are often available (particularly on the marquee courses ) and detailed guides also being on offer at many venues, having pre-installed GPS software on your phone may be a cost effective or alternative way of attaining that on-course information.
That said, if you can afford to do so, hire a caddie when you can. In addition to offering a wealth of golfing knowledge, they can also be gifted raconteurs – offering stories of famous clients, local events, and maybe even tales of the sordid activities of their brethren in the evening.
Book a golf vacation to Scotland
7. Moisturiser and Sun Cream
This is particularly important for those who are dermatologically proactive. After potentially spending five hours on a golf course battling strong winds (or enjoying bright sunshine), your skin is going to be pretty dry.
If you wish to avoid your face resembling a sturdy form of leather, then it would be a shrewd idea to pack some moisturising products. It can surely be agreed by most people that it's best not to look like Mickey Rourke, so ensure that your face is protected in order to escape that traumatic destiny.
8. Plug Adaptors
Book a golf vacation to the home of golf
9. Quality Camera
10. Leave Some Space
Planning a golf vacation to scotland?
Scotland is a vast and varied region filled with ancient ruins, traditional pubs and of course some of the most famous links courses in the world. Just be sure to consider bringing all the essential items with you when you go...
---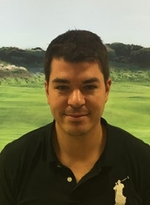 Chris Bowles
Senior Golf Vacation Specialist - UK & Ireland
Related articles