Experience all the beauty that Ireland has to offer in magical Donegal
Donegal is the Northernmost county of Ireland, and unlike some of the more southern regions, has quite a harsh rugged coastline, which lends itself well to some truly excellent links layouts.
This part of Ireland is pretty remote, with unbelievably raw scenery and the local dialect still very much a part of daily life. From Donegal in the south to Ballyliffin in the north, the sense of history and tradition is palpable.
Several outstanding courses line the Co. Donegal coastline, including Rosapenna, Ballyliffin, Narin & Portnoo, and Donegal Golf Club. All layouts seem so natural and effortlessly woven into the landscape as if golf was always meant to be here.
There is a variety of accommodation options in Donegal, from the luxurious five-star Lough Eske Castle which dates back to the 17th century, to the more lively Station House Hotel located in Letterkenny. If you'd prefer to 'stay & play', then Rosapenna Hotel & Golf Resort is perfect for your next golf package in Donegal, with 2 championship courses onsite.
Why book a golf package in Donegal?
Incredible landscapes & scenery

Stunning Atlantic white sandy beaches

Quaint villages & cosy pubs

Hiking in the Sliabh Liag (Slieve League) Cliffs

Visit the 15th century Donegal Castle
Experience the beauty that Ireland has to offer in magical Donegal
At the turn of the 21st Century, Donegal remained relatively unknown in the world of golf. However, that has since changed and now the Northernmost county of Ireland is finally receiving the recognition it deserves.
Working our way up the coast, the links adventure begins with Donegal Golf Club, which occupies the magnificent Murvagh peninsula in Donegal Bay. Next is the recently restored Narin & Portnoo Links, which is wild and rugged, in a place steeped in ancient history and folklore. As we get up towards the northern tip of Ireland there are two majestic properties in Rosapenna and Ballyliffin that each feature a brace of highly acclaimed courses.
Although remote and tricky to get to, the spectacular County Donegal scenery and incredible coastal golf courses are well worth the effort.
What makes a golf package in Donegal so special?
Donegal is the perfect destination for an Irish golf trip, and for good reason. The area is quiet, the air is fresh and the beaches are long, perfect for those looking to escape the hustle bustle of everyday life. It may be slightly remote, but the quality of the golf, scenery and hospitality make Donegal an unmissable experience. What's more, the locals who inhabit this stunning region will always provide you with a warm Irish welcome.
International access is best through Belfast, which is a two hour drive from the town of Donegal. Alternatively a connection to Derry Airport leaves you only 45 minutes from Ballyliffin in the very north. It time permits we highly recommend combining a trip to County Donegal with the north coast or Northern Ireland, where you can play Royal Portrush, Portstewart and Castlerock. That's quite the trip!
Our experts say...
Rosapenna and Ballyliffin are two absolute gems. Both venues feature two championship links courses with breath-taking scenery. You could easily spend a week just playing those 4 courses.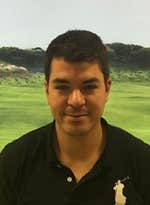 Chris Bowles
Senior Golf Vacation Specialist - UK & Ireland
Explore by map
Not sure where to play? Browse our map and find your ideal destination in a continent of possibilities. We know you will be spoiled for choice! Remember our knowledgeable golf experts are ready to answer any questions.
Find the perfect base for your stay
When it comes to accommodation, we have some great options. Lough Eske Castle just outside Donegal Town is magnificent and the only five-star establishment in the area. A luxurious retreat dating back to the 17th century, set in 43 acres of woodland in the shadow of the Blue Stack Mountains.
For a more lively stay we recommend the Station House Hotel in Letterkenny, a boutique style property conveniently located within walking distance of the town's bars, restaurants and nightlife. For equi-distant access to all 3 of the big name courses in this area, Donegal, Rosapenna and Ballyliffin, the Station House Hotel is your best option.
For those that prefer a golf resort and the ability to 'stay & play', then Rosapenna Hotel & Golf Resort is the complete package with all the trimmings of a four-star resort and two fantastic championship links courses onsite.