Caddy Tips
Reasons to visit St Andrews
They don't call it the Home of Golf for nothing. St Andrews is steeped in golfing history with stunning coastal views to match. Never been? Read on to see why it's somewhere not to be missed.

Jordan Manning
7 mins read
St Andrews Cathedral, standing tall since 1158
St Andrews Castle and Cathedral
This striking old castle ruin that overlooks the North Sea, providing stunning views of the coast, is a monument to a dark and murky history that touches back centuries in both the town and the whole of Scotland. First built during 12th century, the structure was dismantled during the Wars of Independence. It later became home to Kings, with James III being born there in 1445.
As the years moved on, the castle took on a more sinister life, becoming a fearsome prison and site of religious persecution and murder during the Scottish Reformation, which led to a lengthy siege between Protestant and Catholic forces. Both sides cut deep into the rock to create underground tunnels. These remain open to the public today, and serve as a reminder of a bloody past that hangs over the town. It's a must-visit for anyone with an interest in medieval history.
The ruins of St Andrews castle overlooking the North Sea
Eden Mill
West Sands
West Sands is famously where the iconic beach running scenes from the Academy Award-winning Film Chariots of Fire were shot. This impressive beach stretches out for more than two miles from the edge of town and provides majestic views across the North Sea and back towards St. Andrews itself.
Contemporary building of the British Golf Museum
British Golf Museum
Considering St. Andrews can make the claim of being the cradle of golf as we know it today, it's no surprise that the British Golf Museum is to be found here. Sat across the road from the R&A Clubhouse, the facilities were renovated ahead of the 2015 Open Championship, which led to the opening of an upstairs café and restaurant that boasts striking views in all directions.
West Sands beach at sunset
New Picture House
If you are fortunate enough to be in town when there is a decent movie on show, then the New Picture House is an appealing opportunity to be transported back to an era when cinemas were less cynically commercialised and more intimate in nature.
Being the absolute antitheses of the huge multiplex theatres that you see across major cities today, this old building oozes character and charm throughout its modest three screens (which regularly show the major releases) and is a treat for anyone who misses the old days.
---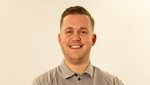 Jordan Manning
Scotland & Ireland Team Leader
Related articles